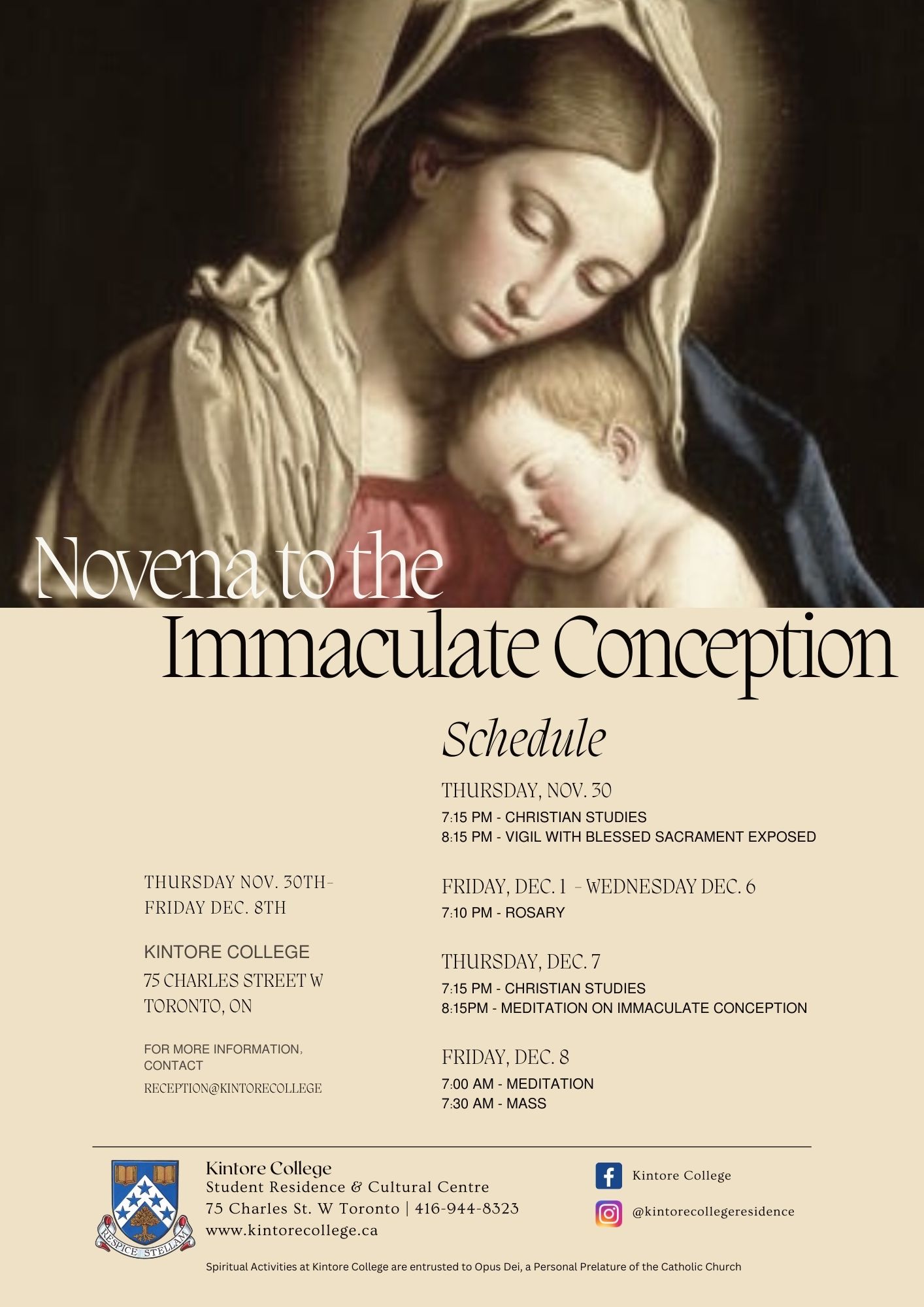 FOR POST-SECONDARY STUDENTS
MASS SCHEDULE
Monday to Friday: 7:30am
Saturday: 9:00am
Sunday: 11:00am
​If you are a female university student and would like to attend our daily Mass, please contact us at reception@kintorecollege.ca. We appreciate if you can arrive 10 minutes prior to the Mass start time.
RECOLLECTIONS
Recollections are like mini-retreats that help you take a break from your busy life and think about your life and relationship with God. We host recollections every month.
EVENING OVERVIEW
7:15pm – Talk
7:35pm – Examination of Conscience
7:40pm – Spiritual Reading
8pm – Meditation with the Blessed Sacrament Exposed
8:30pm – Prayer in front of the Blessed Sacrament and priest is available in the confessional
8:50pm – Benediction/Departure
• Priest is available for confessions/spiritual direction from 8:00pm onward
​2023 DATES OF RECOLLECTION (Thursdays) 
For university students
Sep 14
Oct 12
Nov 16
Dec 14
RETREATS
2023 SILENT RETREATS
For young women in post-secondary school.
​
Dates:
Friday, January 6 – Sunday, January 8, 2023 at Cedarcrest
​
Thursday, May 4 – Sunday, May 7, 2023 at Kintore College.
​
Please contact us at [email protected] if you would like to be notified of other retreats.
OTHER ACTIVITIES
CHRISTIAN STUDIES CLASSES
Thursdays at 7:15pm (more details here)​

PRIEST-LED PRAYER (MEDITATION)
Thursdays at 8:15pm
​
CONFESSIONS
Thursdays at 8:45pm and Sundays at 11:45am (after 11am Mass)
BENEDICTION
Saturdays at 7:30pm
RECOLLECTIONS
Recollections for Women
ANNUAL THEME: COHERENT CHRISTIANS
​
EVENING OVERVIEW
6:45pm: Arrival, priest is available for confessions and spiritual direction
7:10pm: Guided prayer in front of the Blessed Sacrament
7:35pm: Examination of conscience, spiritual direction, confessions
7:55pm: Benediction
8:10pm: Talk followed by get together
​2023 DATES OF RECOLLECTION (Wednesdays) 
January 18th
February 22nd
March 22nd
April 19th
May 24th
June 21st
July 19th
August 23rd
September 20th
October 18th
November 22nd
December 6th
The recollections are held at Kintore College. Please contact [email protected] for more information.
​
RETREATS 
Retreats for Women
SINGLE PROFESSIONALS
January 27th – 29th 2023 at Cedarcrest
September 1st – 3rd 2023 at Manoir de Beaujeu
PROFESSIONALS
November 24th – 26th 2023 at Cedarcrest
To register or for more information, visit:
https://www.cedarcrestcc.ca/
http://www.manoirdebeaujeu.ca/
Holy Week Invite 2023
CRASH COURSE ON CATHOLICISM
Every first Wednesday of the month, 7-8pm.
See flyer.